Slow Cooker Confit Style Duck with Hoisin Sauce
Confit Duck is a usually a two day, two step process, where the duck is submerged in goose fat after it has sat overnight in a salt or spice rub.
My recipe is so easy to make and uses the duck's own fat to baste, whilst being cooked on the day. This makes it an easy midweek dinner and negates the use of any extra fat.
It is such a wonderful meal to walk in to if you have been out all day or need any easy entertaining option.
All I do is wash and dry the duck leaving the skin on and add it to the bottom of a slow cooker naked, no salt, no spice rub, no vegetables, nothing else is in the slow cooker. Try cooking the duck in one layer and I work on a duck piece for every person you are serving, the meat is rich.
The duck is then slow cooked for 6-8 hours on high, but check your manufacturer's guidelines for your cooker's recommendations. If you don't have a slow cooker set your oven to 80 degrees
The fat renders out from the skin and bastes the meat as it travels down to the bottom of the slow cooker. The base of the duck then sits in fat and 'confits' in its own fat. The top will be basted and browned as the meat cooks.  It is rather a genius, zero effort way to cook duck that yields a deliciously tender result.
When the meat is ready you will see the skin turn a deep brown colour and it will be slightly crispy. If you love crispy skin this is not the method to try, as the atmosphere of the slow cooker is too moist to crisp the skin.
I used a bottle of hoisin sauce and smeared it over the top of the duck legs while they were still hot, but taken out of the slow cooker and drained on paper towel. The duck would have been delicious on its own too but my family loves hoisin duck.
I served mine as a make ahead mid week meal, two ways with noodles, broccoli and hoisin sauce for my family and with Camargue red rice, with kidney beans and chopped coriander for myself. The balance of the rice was taken as a packed lunch the next day.
The meat falls off the bone and is amazing for the minimal effort you put in to make the duck.
.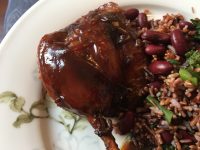 Enjoy this delicious, minimal effort way to cook duck.
---
---
---